The recent drop in mortgage rates may have you dreaming of buying a new home or refinancing your current house.
You're not alone.
Today's low interest rates are providing a break to new homeowners, making homeownership more desirable and achievable at the same time. Freddie Mac explains,
"The combination of very low mortgage rates, a strong economy and more positive financial market sentiment all point to home purchase demand continuing to rise over the next few months."
There's a current narrative that owning a home today is less affordable than it has been in the past. The reason some are making this claim is because house prices have substantially increased over the last several years.
It's not, however, just the price of a home that matters.
Homes, in most cases, are purchased with a mortgage. The current mortgage rate is a major component of the affordability equation. Mortgage rates have fallen by over a full percentage point since December 2018. Another major piece of the affordability equation is a buyer's income. The median family income has risen by approximately 3% over the last year.
The chart below is featured from FRED Economic Research. It shows the 30-Year Fixed Rate Mortgage in the United States from 1980 to current times. Look at that drop, how crazy! In just 40 years, mortgage interest rates have dropped almost 15%! What an incredible cost savings!
The National Association of Realtors (NAR) releases a monthly Housing Affordability Index. The latest index shows that home affordability is better today than at almost any point over the last 30 years. The index determines how affordable homes are based on the following:
"A Home Affordability Index value of 100 means that a family with the median income has exactly enough income to qualify for a mortgage on a median-priced home. An index of 120 signifies that a family earning the median income has 20 percent more than the level of income needed pay the mortgage on a median-priced home, assuming a 20 percent down payment so that the monthly payment and interest will not exceed 25 percent of this level of income (qualifying income)."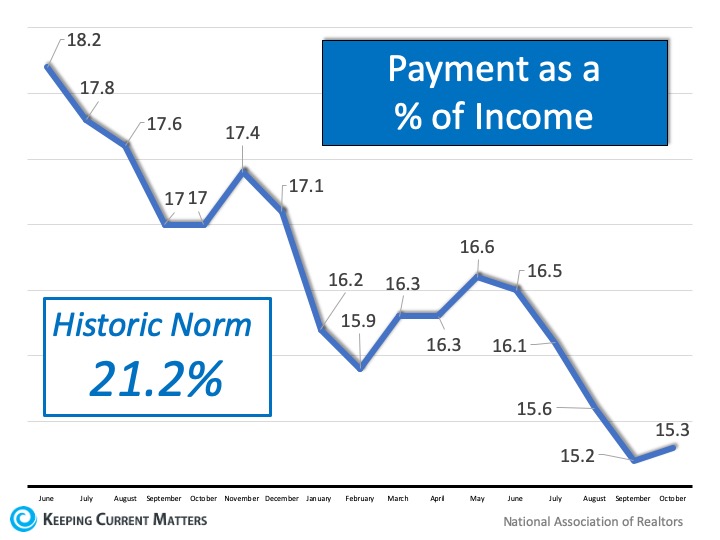 The report on the index also includes a section that calculates the mortgage payment on a median priced home as a percentage of the median national income. Historically, that percentage is just above 21%. Here are the percentages since June of 2018:Again, we can see that affordability is much better today than the historical average and has been getting better over the last year and a half.
Refinancing: When is it worth it?
When it comes to whether you should refinance your current mortgage, you might consider using the "half point rule," which means the new rate is at least 0.5 point lower than your current one.
However, in reality, it comes down calculating what you'll be saving every month versus what it's going to cost you to take out the new loan — and then figure out when you will break even, he explained. If you plan on staying in the house for longer than that time, it could be a good idea to refinance.
Depending on your timetable, you can also look to refinance at a shorter fixed period, such as a 15-year loan or an adjustable-rate loan that has a shorter fixed term before the rate adjusts. Those loans typically have a lower interest rate.
Bottom Line
Whether you're thinking about buying your first home or moving up to the home of your dreams, from an affordability standpoint, this is one of the best times to buy in the last 30 years.
Getting approved for a mortgage is one of the most important steps in the property buying process.
---
For up-to-date information on YOUR Indiana area neighborhood or a FREE Seller Consultation – call The Romanski Group at (765) 293.9200. Using an experienced team is the way to get your home ‪SOLD‬! You deserve the BEST Realtor in the Lafayette Indiana area!